Sooo its been awhile, I had to take a mini break from my blog because school and midterms and I really just had to put all my focus on school. But im back and I came up with this new post filled with my  favorite things. of the month. YAY
Things I Love
1. Boohoo! Boohoo is British clothing website that I came across over the summer. But I recently did a few purchases there because they were have such an amazing sale. One of the brand I guess I can compare it to is forever 21, their clothing is similar in quality to Forever (not the best but still really cute and decently prices). Recently I purchased Jelly sandals and this super cute midi skirt. I know jelly sandals in the middle of winter, but they were only $7 and they are amazing quality and I have been so sad since my old ones had broken. But seriously check out boohoo.com, they are constantly sending out emails with 30% off promo codes and they sell clothing for everyone of all sizes.
2. Homemade Masks
I love buying masks from stores and wearing them (especially the peel off ones). But one day I came across a mask recipe online and i was immediately inspired to make it. So later that day I made this honey, cinnamon, and nutmeg mask,mainly because this was the only recipe I actually had all the ingredients to, but it turned out really well and it smelled delish. And after 20 minutes of relaxing I rinsed off my face with warm water and I revealed a smoother brighter and moisturized face. After using this mask for about a week my face feels refreshed and clean. Now I am so excited to start making more natural and homemade skin care remedies.
Heres a link to the recipe I found online:
http://www.lizmarieblog.com/2014/04/diy-honey-cinnamon-nutmeg-face-mask/
*photo is from lizmarieblog.com
3. Scrunchies
When I came across scrunchies at American Apparel I was so excited. I remembered wearing these things as a little girl and I immediately grabbed one while I was waiting in the checkout line. $6 dollars later and I still don't regret my purchase of this overly expensive golden scrunchie, infact I wish I had bought more, they are soooo cute. I actually hate wearing my hair in ponytails and it doesn't help that I have short hair, it makes it harder to pull off cute little updos. But with my magical new scrunchie I am able to make a super lazy hair day into a fab little effortless ponytail. Yay the revival of scrunchies
*photo from American Apparel
http://store.americanapparel.net/rsa0504l.html
4. Joggers
It is funny to think that I used to hate wearing sweatpants or harem type pants. But recently I am all about comfort, and I think that finally realizing that comfort and fashion can come hand in hand is important. Right after Christmas I purchased a pair of jogger type of pants from Urban Outfitters and can I say that I am OBSESSED. They are amazing and thick and so flattering (and they are perfect for dressing up and down), its hard for me not to wear them everyday. After this whole epiphany I had I began to wear sweatpants and have purchased a new pair of sweatpants/joggers that are perfect for gym class and for wearing casually. AHHH I can't wait to buy more this year. May 2015 be the year of comfortable fashion for me.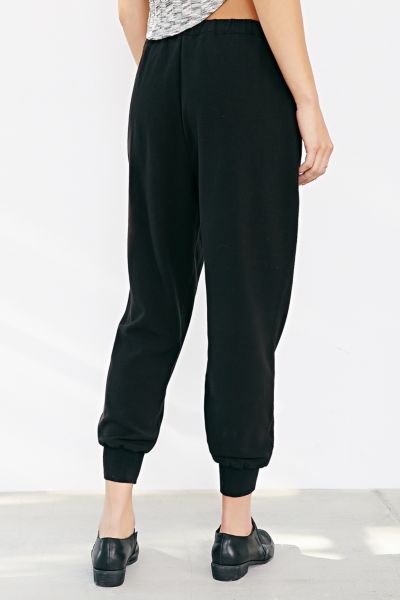 *exact joggers I got but they are sold out, and the photo is from Urban Outfitters